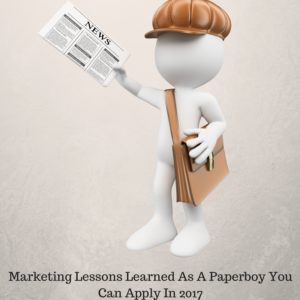 Once again, as we start a new year, I can't help but reflect on my many decades of involvement in marketing and sales. If you review my LinkedIn profile, you'll understand.  Not on my LinkedIn profile, are the marketing and sales positions that I had as a kid that really have shaped where I am today and why I have such a profound passion in this area. One of those positions was as a paperboy.
It was the winter of 1968 when I really started my journey down this road with a paper route.  Trudging through the snow in the cold, dark, early morning Boston winters with a bag full of newspapers wasn't easy. My work wasn't wrapped in clever marketing slogans, but just true grit.  I learned a lot of lessons about business and life back then that are still proving to be quite beneficial today and which can be applied anywhere by anyone.
I became very "street smart" from that experience and built upon it by additional life experiences and formal education in marketing that really contributed to my success throughout my career and which continue to guide me to this day. The fundamentals are basically the same. It's the tools that have changed.
Goals & Objectives
Just like anything in life,  and certainly with Social Media, you have to have clearly outlined goals and objectives to succeed. In the case of my paper route, my goals and objectives were focused on earning enough money to attend hockey school in Toronto the following summer. Being the oldest of 6 children from a lower middle class family, I had no choice but to try to earn my own way and that is what I did. I didn't let the Boston blizzards, the heavy spring rains, or the summer heat stop me from reaching my goal.
Hockey school was great! It's amazing what one can achieve when they set their goals high enough and don't let anything get in the way.
As we begin this new year, we all need to have goals that we want to achieve for the year. It is imperative that they be written down or otherwise most will soon be forgotten.
Customer Service
I had a profound interest in seeing to it that I provided exemplary customer service. If it was a rainy morning, I'd make sure that each and every newspaper was placed inside the customer's front door.  I was never late and delivered the papers before 6:30A. It was tough getting up on many a cold morning with snow on the ground, but I knew that my customers wanted their newspaper to read during their morning breakfast and this is what I was going to deliver.  I've never forgotten this and have always tried to put myself in the customer's position and have tried to see what I could do to exceed expectations.
Market Share
I was always trying to gain market share with my paper route. Market share wasn't a term I was familiar with at the time, but what I was doing was certainly attempting to gain market share. You see, at that time, there were three newspapers in Boston. I tried my hardest to pick up new customers who were reading the other papers and was fairly successful in getting a number of people to switch or add the Boston Globe to their reading list.
Marketing/Selling What You Believe In
I was lucky, as I was "marketing" the Boston Globe. It was a great newspaper then and still is today. I could sell it because I knew it was good. I learned a life long lesson at that time that you can never be good at selling or marketing something if you don't believe in it. Without a passion, there's nothing. You won't be successful.
Referral Marketing
I always enjoyed meeting my customers and getting to know them. They always appreciated the job I was doing and referrals were often given to me by them. At that time, I had no idea what referral marketing was, yet it was quite helpful in expanding my business. It's something which I continue to try to apply on a daily basis. This is certainly the easiest way to gain new business.
Yes, 1968 was a long time ago, but it's nice to still be able to remember the things that I did then that have shaped my life and career. They were simple concepts without fancy names, but the lessons I learned at that time are still part of my DNA and have proven to be invaluable.
Do you have any similar childhood lessons that you can share which will help shape your 2017?